This weekend I got to hunt with a lot of new friends and old buddies this weekend. I started off friday morning with my new friend Mr. Ron Nassar from Vicksburg on his place near Mahanna WMA. Ron had his brother in law fly in from Chicago and nephew drive in from Nashville. Joe and Josh Mansfield, were really nice people and are looking forward to making an annuall event out of our hunt. I also brought my new friend, Daniel Bays along for the whole weekend. I like ol' Daniel. He might be a little slow moving sometimes
but he ain't scared to pull the trigger!
Here is the picture from the morning hunt. We killed 30 and 2 coons on the day!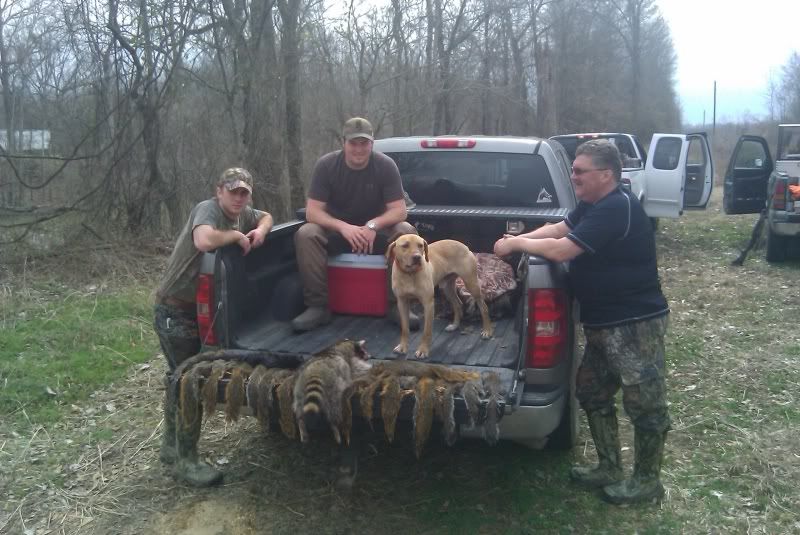 Here is Daniel Bays with one of the tiny delta coons we got!
Saturday morning we participated in the 3rd Annual "A Hunt Above" Charity Hunt hosted at Mark Morrison's Camp. I had 4 or 5 shooters and several spectators on my cast. We hunted my good friend Daniel Sumerall's camp out by Lake Chotard. I'll probably forget somebody but we had Daniel Sumerall, Daniel Bays, Josh Hearn, Jim Simpson, Sonny Nobles, Johnathon Hears, Gwen Taylor and 8 year old John Michael Wilkerson.
Here is John Michael with the mornings take.
That evening we hunted Gwen's camp, Goose Lake Hunting Club. It was bad hot and the squirrels didn't move until late but the days total was 20 squirrels and 2 coons. We left one coon hung up but it wasn't for the lack of trying! LOL
Here is John Michael with the grey squirrel he hammered with his .410!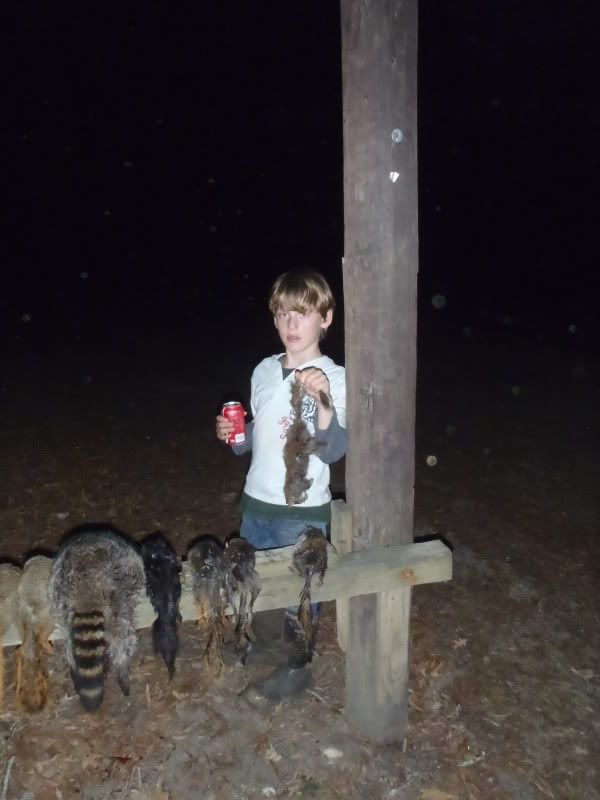 Here is the rest of the group.
Then we cut HotRod loose when we got back to Daniel's Camp and he put 2 singles up for us in about 45 minutes.
Sunday morning a few of us met up with Jack Nowell and his 8 year old nephew Austin on Jack's place in Bolton. To say Jack and Austin had a blast would be an understatement!!! Austin was able to kill his very first squirrel with his breakover .410. It was a beautiful piney woods fox squirrel too! Jack said he wanted me to come back every year too!
Here is Austin with his squirrel
HotRod treeing Austin's squirrel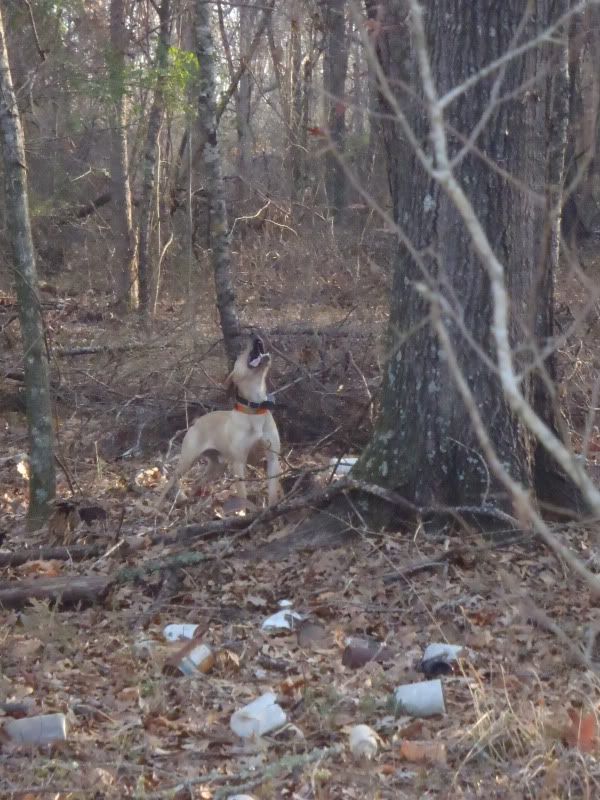 Here he is with Uncle Jack. I couldn't help but think about all the dreams he is going to have about this hunt. He loved HotRod too!!!
Mornings take
Sunday evening Sonny got us in on a nice farm but the wind and heat about ruined our hunt! Dyna was still able to put a few up for us and we ended with 17 on the day.
This is a motley bunch for sure!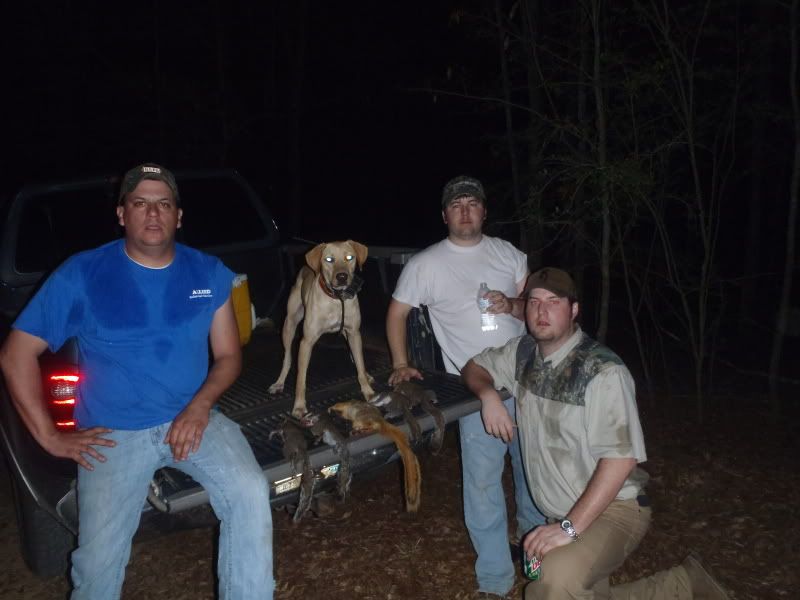 Needless to say, I spent the whole day today resting! LOL I walked almost 30 miles this weekend and it would blow your mind to know how much ground those dogs covered! They sure made me proud in spite of less than desirable conditions! Tganks to all my friends and all the hosts we had! Thanks again to Daniel Sumerall for putting me up and getting us in some nice places to hunt! I'll see ya'll again this weekend!